Oakville auto repairs facility, car repair shop for Oakville, Burlington area
ANTIQUE CAR REPAIRS, CLASSIC CARS AND COLLECTABLES
About Us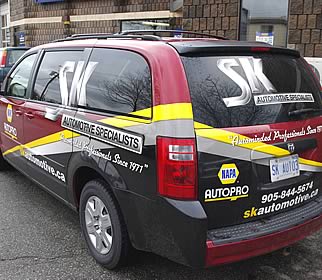 Founded in Oakville in 1971 by Larry Squires – still a family-owned and operated auto repair business We are a NAPA AUTO PRO franchise. Anything we do here, carries a nation wide warranty throughout Canada and the U.S ( 1 YEAR / 20.000 km ) or even longer.

We provide auto repairs in Oakville for all types of vehicles. Cars, light trucks, SUVs and even off road equipment and snowmobiles. (Recommended by the APA (Automotive Protection Association) Please give us a call for any automotive-related need. Being it an automotive shop, body shop, or emission testing, give us a call and we will help you out.
DID YOU KNOW?

SK Automotive was founded in 1971. Pierre Elliot Trudeau was the Prime Minister of Canada, Bill Davis the Premier of Ontario. Ontario Place opened in Toronto. In the United States, gasoline went for 36 cents a gallon.
Welcome to SK Automotive, specialists in import and domestic auto repairs for Oakville area. We are a family-owned business with deep roots in the Oakville community. Since 1971, SK Automotive has been serving Oakville and nearby vicinity, and have built a solid reputation for quality and satisfaction. SK Automotive specializes in both gasoline and diesel engine performance, offering full computer diagnosis Our motto governs everything we do: "Fit it fast, affordably – the first time". At SK, our reputation is earned on building customer relationships through repeat business. Whether you're new to the Oakville area, or just looking for a dependable source of automotive service, SK is your choice. If you have any questions about your car, be sure to call Larry or me. We promise to give you our complete attention. Dale Squires

By providing good, old-fashioned customer service over the years, proprietors Larry and Dale Squires have gained a loyal following in the community. Many hundreds of area residents have come to depend on them, and to rely on the technical expertise of their friendly staff to keep family vehicles in peak running condition.

The success of their neighbourhood business has been built on a foundation of customer satisfaction. Indeed, satisfied existing clients are Larry and Dale Squires's best advertising.'Word-of-mouth' referrals continue to be their largest source of new customers.

Perhaps you yourself are visiting this Web site on the recommendation of a friend or acquaintance. Whether a referral led you here or not, one thing is certain: You too can entrust all of your vehicle's service and repair needs to the team of automotive professionals at SK Automotive Specialists.

Call Larry and Dale Squires today and find out what good customer service is all about!